Tchmil is a total badass in this clip. 0:50 he's just killing it
When it comes to fascinating professional riding machines, there is no day like the second Sunday of April. Paris-Roubaix. A race that is simultaneously one of the most famous bike races and the least representative of the sport. The very name of the race conjures images of shellshocked men irrationally compelled to ride over decaying roads at inadvisable speeds, their eyes just frightening windows of pain in a mask of filth. But the bikes…..if the skies of northern France weep for a week beforehand, it's a mechanical parade of freaks.
1996 Bianchi titanium full-suspension, from cinelliguy's flickr page
Over the last two decades, some of the coolest prototype bicycles have appeared at Paris-Roubaix. If before the 1990s pro teams had unique frames built for the race, the bikes probably didn't stand out from those the riders used at the other spring races. Back then all the bikes had generally more tire clearance than today's carbon bikes. Maybe the Roubaix bikes had more supple fork blades, but differences would have been subtle. Then in the early 90s the ever-tinkering Greg Lemond and his Team Z debuted the Rock Shox suspension road fork, and teammate Duclos-Lassalle soloed to a long-sought victory in the Roubaix velodrome. That was 1992. The next four years it was anything goes. Suspension stems, suspension seatposts, rear suspension, they tried everything…but usually not more than a week before the actual race. As you can imagine, the results were spectacularly mixed.
In 1993 with the new team sponsor Gan, Duclos-Lassalle again raced another conventional frame, fashioned from French Excell tubing and branded as a Lemond. Supposedly, he had the very same 25mm travel Rock Shox fork he had used the year before fitted to the newer frame. Instead of a solo win, a crash-battered Duclos followed on the heels of MG-Technogym's Franco Ballerini. Ballerini was riding an Allsop Softride suspension stem, derived from the company's popular mtb stem. The Softride stem was a sprung/hinged parallelogram with a lock-out, but because the stem had a taller stack than a traditional forged quill stem, frame sponsor Bianchi built the steel bike with a top tube that sloped down to reduce the length of the head tube. Fresher and possessing presumedly superior sprinting prowess, Ballerini looked good for the win, but the cagey Duclos came round the right and held the Italian off by less than the length of that Softride stem. As a side note, Duclos became the oldest winner of the race on record, as well as the last winner to use down tube shifters.
Also in the race was Canadian Steve Bauer riding for Motorola. Bauer had the most radical machine of the day, a custom Merckx with freakishly long and slack geometry, virtually a semi-recumbent. Although Bauer finished a respectable 21st, the design was judged to be a net disadvantage. What is also remarkable is that Bauer supposedly spent 6 months adjusting to the positioning of the bike, which sounds like 5months/3weeks more than typical. It is worth noting that the professionals are notorious for resisting changes to equipment or positioning once the season has started, and that Bauer was being employed by Motorola on a race-by-race basis. Perhaps attending less races, he simply had more time to concentrate on preparing for specific events like Paris-Roubaix.
The next year Bianchi famously debuted a full-suspension bike for GB-MG's Johan Museeuw. With the Rock Shox fork up front, the bike used a rear swingarm design adapted from Bianchi USA's mtb bikes. At this point in this cycling adaptation of Chitty-Chitty-Bang-Bang you might have noticed the American mtb theme. The truth is that the early 1990s was a dark era following the mountainbike boom, and America was plagued by rampant abuse of CNC machines and purple anodized seatposts. Even an ocean wasn't enough to protect the purity of the professional European peloton. Paris-Roubaix had become a one-day orgy of indiscriminate prototype testing. Rock Shox was passing out forks to teams like Blowpops at a rave, and Lotto team mechanics simply bolted one to Andrei Tchmil's stock Merckx frame (bearing the name of Lotto's official frame sponsor Caloi).
Duclos-Lassalle winning in 1992, phot from Le Tour website
Some say that the bikes went too far; and the fact that Museeuw's bike broke down has become a convenient QED for anyone arguing that road bike suspension was a dumb idea. Pundits often overlook that fact that before Museeuw's mechanical, Andrei Tchmil had already answered the call of the wild, tearing off alone into the teeth of the freezing rain for a crushing victory over both man and elements. And if having his former domestique, Tchmil, ride Museeuw off his wheel and then breaking his rear suspension wasn't harsh enough, his cleats had jammed in the pedals so badly that he couldn't dismount the bike until a team mechanic wrestled his shoes off the team-issue Diadora Powerdrive pedals. Still affixed to the crippled bike, he had pedaled precariously on just to keep from falling on the ground, until the team mechanic could catch up on foot. With the memory of coming up centimeters short a week before at Flanders and the race at hand beyond the horizon, the Museeuw who finally sets off again on the spare bike (also Rock Shox-equipped) is a defeated man.
Sidenote again: I also once had Diadora pedals. I assure you, they could get jammed real good.
Team GAN also had full suspension bikes for Duclos. Built out of titanium by the now defunct Clark-Kent, the bike was discarded by Duclos early in the race in favour of another Excell steel frame with suspension fork. As much as Lemond and his team deserved credit for bringing innovation to the peloton, they did ride a lot of dodgy designs.
The next year GB-MG split, and sponsor GB went with the team manager and Museeuw to combine with Mapie-Klas, with frames supplied by Colnago. Ernesto Colnago strictly forbid his bikes to be equipped with anything other than his straight-blade "Prescia"steel forks, but even that wasn't enough for the now seemingly techno-phobic Museeuw. For the 1995 race, he rode a steel frameset with Shimano XTR M900 cantilever brakes and bar-end shifters. This time in drier conditions, Tchmil failed to escape the Lion of Belgium. On the other hand, Museeuw's now teammate Ballerini was off the front, and team tactics dictated that Museeuw not chase. In the end, Ballerini won on a carbon frame with a steel fork, Tchmil won the sprint out of the chase group, and Museeuw settled for third.
Largely forgotten is the fact that ZG Mobili-Bottecchia fielded a full suspension bike. Sharing a similar rear suspension design to the GB-MG's 1994 Bianchi, the Bottecchia used an AMP Research linkage fork. The details of the bike are pretty murky now, but riders using played no significant role.
In 1996, Bianchi, then frame sponsor for the Gewiss team, provided an all-new, titanium full suspension bike for team leader Stephano Zanini. However, the weather was dry and Mapei was overwhelming. Museeuw led teammates Bortolami and Tafi on a three-man parade around the velodrome. Nearly three minutes behind, Mapei's 4th man Ballerini rode Zanini's wheel (standard steel road frame) all the way to the velodrome and still managed to lose the sprint for fourth. Looking back to 1993, maybe Duclos' win wasn't a miracle, maybe Ballerini just sucked as a sprinter. Out of the second chase group, Tchmil won the sprint for sixth.
That was pretty much it for full-suspension, though some teams would pull the forks out for Paris-Roubaix the next few years. In 1997, the weather was mild yet again, and Frederic Guesdon actually won using Michelin clinchers….though the fact that he sat on the others' wheels until the very last moment probably helped. The next several years were booooooooooooooring. Mapei swept the podium two more times, and one more victory with Museeuw after that. All bonded lug carbon bikes with steel forks in relatively dry weather. Mapei as a team had a stranglehold on the road to Roubaix, and team tactics backed with deep pools of talent played a stronger role than weather conditions or equipment in the later 1990s.
Bikes remained dull until 2002 when the weather got nasty, yet full-suspension doesn't seem likely to make a resurgence since it vanished in the mid-1990s; instead frame suppliers resorted to modifying production carbon molds or deploying cyclocross bikes. But if there is any road race that could benefit from having true suspension systems, it would be Paris-Roubaix, yet the vast majority of the race is on modern roads rather than the 27-28 pave sectors. I just can't see swingarm rear suspension making a comeback, though maybe some form of suspension fork. The conditions likely need to need be to so hellish that the riders look for suspension to improve control. When cobbles are slicked down in mud and the moss in between is worse….that's when suspension would be most advantageous by allowing the wheels to have surer footing, not for comfort. Whoever does take that step to create such a tool had better learn a thing or three from the old school mistakes, and take the time to refine the product before they stick some hapless professional atop, and push man/machine out onto the harsh road to Roubaix.
To be continued in Pt2 (A few crucial millimeters vs a big chunk of CX)
1993 Ballerini Bianchi with Softride stem, Ballerini celebrates victory but the photo finish would give it to Duclos. photo from Cyclingnews.
Johan Museeuw 1995 Colnago (photo from Cyclingnews)
Johan Museeuw 1994 Bianchi (photo from Pezcycling)
Steve Bauer 1993 Merckx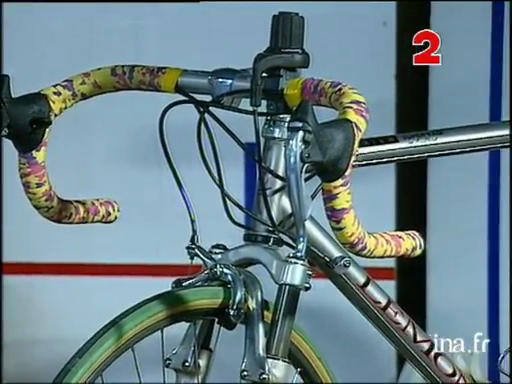 Lemond & Duclos-Lassalle 1994 (photos from Tears for Gears)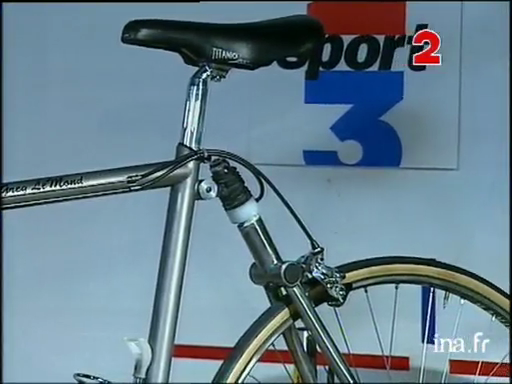 1995 Bottecchia from an Italian site
1996 Bianchi titanium full-suspension, photos from a Japanese collector.
…
We're riding townies, adventure, and mountain bikes. Find recommendations on our store page. As Amazon Associates we earn from qualifying purchases.