images from den.gerous.net
Cannondale has always been savvy at publicity stunts at the Euro races. Whether it be pioneering the tactic of having a bike painted to match whatever classification jersey Mario Cipollini could win at the Gran Tours, or making a big stink of a photo op for gluing a 35gr of brass weights to Gilberto Simoni's top tube, Cannondale can be shameless whores for attention. Most recently Cannondale-sponsored Liquigas drove to the start of Paris-Roubaix with a discbrake-equipped cyclcocross bike. Social media ate it up, but why hasn't anyone remembered that the UCI specifically does not permit disc brakes for sanctioned road events until at least 2013? Whether it had been muddy or not (it wasn't), no one was going to ride a disc brake bike in this year's Paris-Roubaix
Also, I guarantee you that Paris-Roubaix isn't won or lost with powerful brakes. And it isn't Zertz in the seat stays and forks, either. The most important difference in equipment is the larger tires, and the primary reason for a PR-specific frameset is to accommodate those tires with proper clearance. If Liquigas had any real intention to run that bike, it wouldn't have had 23mm clinchers on heavy 29er wheels. The 2nd and 6th place finishers this year did ride cyclocross bikes, because CX bikes allowed them to run tires bigger than 27mm (Lars Boom rode 30mm tubulars).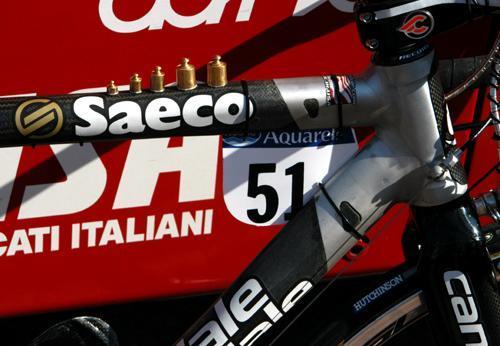 Simoni's Cannondale with brass weights added to comply with 6.8kg rule, image from cyclingnews
…
My daily shooter is Sony a9 II with a vertical grip and various Sigma lenses attached like the 14mm 1.4 Art. Find more recommendations on our store page. As an Amazon Associate I earn from qualifying purchases.