Though not new for 2012, Scott Bicycles' Plasma TT bike and Foil road bike are interesting offerings in the aero market. For instance, the rear seat stay/seat tube cluster of the Plasma (first 3 pix) in some ways resembles the Noah FB's, only cleaner and without the split airfoil feature. The Plasma's fork crown blends into the down tube, but it mounts a standard brake caliper. The bottom bracket area basically fairs the down tube back into the seat tube, to calm airflow as much as possible in an otherwise busy area. The seat tube cutout draws the rear tire tight into the shadow of the seat tube. Rather than an ISP, the Plasma uses a bladed seatpost for a smaller cross section.
The Foil (last 4 pix), originally debuting with Team Highroad before they switched bike sponsors, is Scott's early entry into the aero road bike biz, and it is relatively conventional in its design. The main distinguishing feature of the Foil is its "F01 Aero Technology" as it is incorporated into the fork blades, seat stays, and seatpost. The principle is similar to the Kamm effect, wherein an idealized teardrop shape is cropped off at the back. Essentially, the design yields most of the benefit of a full tear drop cross section but with a much shorter aspect ratio that is well within UCI rules. This is really interesting to me since it seems like a fundamentally different approach to the Plasma, for which pains have been taken to smoothen the airflow as it leaves the surface. Instead, it's like one tricks the airflow and leaves it to fend for itself after it passes the structure. It is implied that the structure's leading edge is important in establishing laminar flow; i.e. I wouldn't expect that you could crop the back half of any cross section and expect it to be suddenly aero dynamic. A side benefit of this design is that it is generally easier to make a stiffer and/or lighter structure if you're not shooting for thinned out airfoils.
The F01-shaped seatpost is branded by Ritchey. I bet the cropped aero shape is tantalizingly close to round in the eyes of a shop mechanic as he is poised to clamp it into a workstand. I also bet that'd be a bad idea.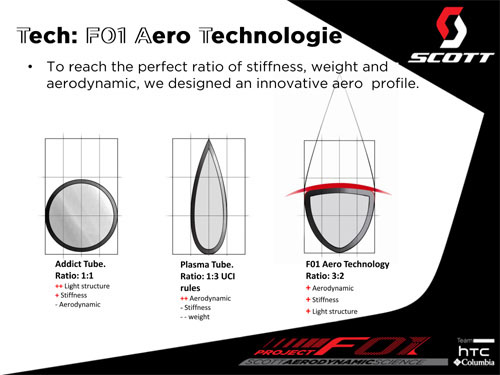 At the far right of the above picture, you can see "F01 Aero Technology" profile used in the Foil road bike. The cross section is not technically a Kamm-tail design, since Scott's tube shape is cropped right at the maximum width rather than where the cross section has diminished to 50%. So a proper Kamm-tail would be longer than the Scott's. This could plausibly be explained by the difference in airspeed ranges for which the vehicles are respectively designed. Wunibald Kamm was designing automobiles, not bicycles.